STRUGGLING TO KEEP TRACK OF ALL YOUR MAINTENANCE ISSUES? This Simple Yet Powerful CMMS Software Can Automate Maintenance And Facility Management And Save You Thousands!
Claim Your Free Demonstration And Discover How Easy It Is To Streamline And Automate Your Maintenance Via A Computerised Maintenance Management System (CMMS)!
50% avg reduction in maintenance fix time 
Automate Your Maintenance And Facility Management In One Simple Step
Struggling to keep track of all your maintenance needs? Is your current software or way of tracking maintenance, complex and confusing? Or are you tired of using inefficient emails, phone calls and spreadsheets to manage your facility? Then it's time to make the switch to Australia's premier web-based maintenance management software.
'My Maintenance' is a Computerised Maintenance Management System (CMMS) which allows you to handle all your urgent repairs, preventative maintenance and scheduled facility management in one place. You can log a request or create a schedule and assign tasks in just seconds, then track the progress until completion and build history for future reference.
Record Data In One Central System Which Saves Time And Reduces Compliance Issues
Do maintenance and facility management issues always seem to take forever to get fixed? Or do specific maintenance problems keep popping up? It's extremely frustrating for everyone involved – especially the staff members who continually request repair of an issue and deal with it every day. Ongoing maintenance problems like this can lower productivity and staff morale and even result in them leaving your organisation.
In addition to this, if the maintenance issue is dangerous and isn't rectified in a timely manner – you could be non-compliant with OHS/WHS regulations. Reporting, assigning and tracking all maintenance requests in one system means you can solve these issues quickly, improve staff safety and reduce compliance issues.
The User-Friendly Interface Allows You To View All Maintenance Requests From Your Dashboard
Most maintenance management systems are too complex. They often take months to install and setup properly, and your staff members find them too clunky and difficult to use. Plus, when something inevitably goes wrong, you need to contact your IT department to make any changes, which can take weeks to resolve.
You won't get this with 'My Maintenance'. We've purposefully designed our SaaS (Software As A Service) technology to be intuitive and user-friendly. We also set everything up for you so it's a quick and easy adoption. You won't need to install, host or maintain any software in-house either because everything is hosted securely online.
Claim Your Free Demo Now
Discover How Easy It Can Be To Automate Your Facility Management And Maintenance Requests! (Value $2500)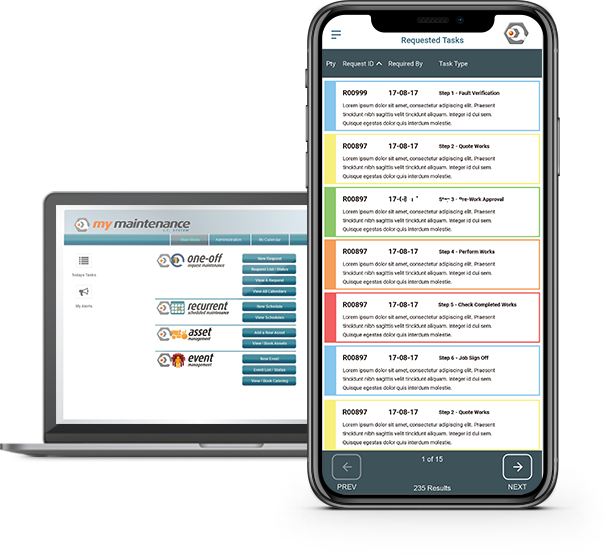 No Software Required

Done-For-You Setup
Quick And Easy Implementation
90-Day Money Back Guarantee